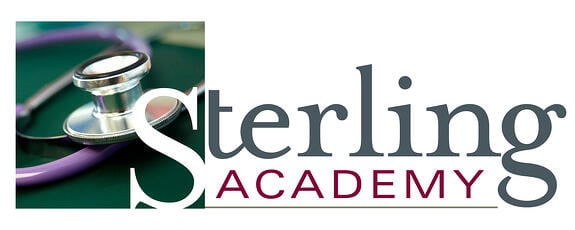 Are you considering pursuing a career in the medical field? Sterling Academy offers online high school courses that will introduce you to the medical field, helping you clarify if that's the direction you want to pursue if you're not sure yet, or getting you started toward your career goals if you are.
Health Science 1 is primarily an Anatomy/Physiology course that covers all of the body's systems.
Health Science 2 begins with a thorough overview of the careers available in the medical fields, then delves into topics such as medical systems, ethics, and patient care.
Nursing Assistant prepares students to provide and assist with all aspects of activities of daily living and medical care for the adult patient in hospital, long-term care, and home settings.
Pharmacy Technician prepares students for employment as a Certified Pharmacy Technician (CPhT) and covers the skills needed for the pharmacy technician field.
Medical Terminology introduces students to the structure of medical terms, plus medical abbreviations and acronyms.
Allied Health Assistant helps you learn how to properly care for your patients and provide for the administrative needs of healthcare.*
Medical Diagnostic Technology covers different diagnostic technology used and essential body systems and fluids that need to be understood to make an accurate diagnosis of a disease, condition, or illness.*
Biotechnician 1 & 2*
Dental Assistant 1 & 2*
EKG Technician* explore the cardiovascular system and its anatomy, and its role in our body, health, and lives.
Emergency Medical Responder*
Fire and Emergency Services
Health, Safety, and Ethics in the Health Environment
Medical Assistant*
Medical Lab Assisting 1 & 2* you will learn what it takes to become a skilled medical lab assistant including understanding medical ethics, communicating with patients, performing blood draws and managing specimens, lab safety and potential career paths.
Medical Office Administration*
Nutrition and Wellness*
Nursing Unlimited Possibilities and Unlimited Potential
Sports Medicine 1 & 2* you will explore many career paths with this field, day-to-day responsibilities, emergency care for athletes, and legal obligations.
Therapeutics
Pathophysiology*
*These courses required a $99 surcharge per semester in addition to the regular tuition.
For more details on what is covered in our Health Sciences courses, request a course catalog.
Full-time students at Sterling Academy can take these courses for their electives. If you are a full-time student at another school but your school does not offer these courses, you can enroll at Sterling Academy part-time and take the courses you wish; these courses are 100% online, and since we are an accredited school, you can easily transfer the credit from these back to your high school.