Every year, the National Association for College Admission Counseling conducts a "State of College Admissions" survey. And every year, respondents say the most influential factor in admissions decisions is a high school student's achievement in their college prep courses.
Performance isn't simply a matter of attaining a high GPA, though. Getting a 4.0 by taking relatively easy courses doesn't indicate you'll be able to do well in the more challenging college academic environment. On the other hand, stretching yourself by taking honors or Advanced Placement (AP) courses says a great deal about your college aptitude.
At Sterling Academy, we offer these types of courses because we know they open doors for our students. Colleges want to know you're capable of taking initiative and following through. Taking advanced courses demonstrates that.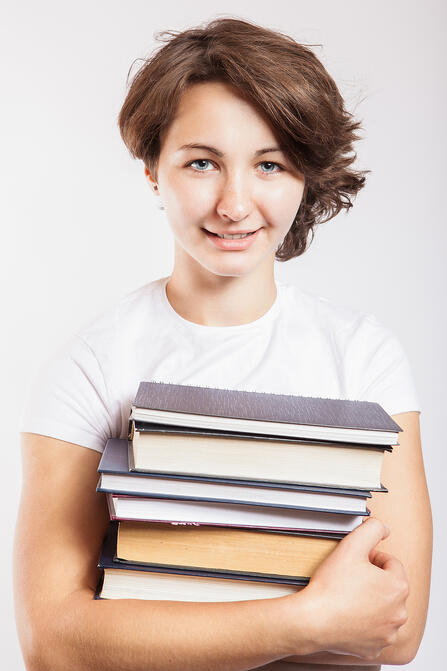 Honors courses
Honors courses follow the same curriculum as standard high school courses, but they're geared toward students who want to work harder, so the material is covered in greater detail. There are more assignments to do in honors courses, and they are more challenging as well, requiring more analytical ability. Taking honors courses underscores your capabilities to admissions decision-makers.
Advanced Placement
AP courses can be taken in lieu of a standard high school course – i.e., instead of 12th grade English, you could take AP Literature & Language. In an AP class, the curriculum is essentially the same as you'd find in a college-level course. You can learn more and showcase your ability to learn.
Because these courses are more difficult, they require more work. You must be committed to doing the work, because performing poorly may give admissions officers the impression that you aren't able to handle college-level coursework. However, the rewards for doing well can be significant, because most colleges offer credit and/or placement for AP classes.
Once you've completed an AP course, you can take an exam, which is scored on a 5-point scale. Some colleges may award you advanced credit or placement if you score a 3, but scoring a 4 or 5 can earn you advanced credit with the best colleges and universities. Those credits enable you to start college having "completed" one or more required courses. You'll be able to pursue more electives in college or perhaps consider graduating early.
Full-time students at Sterling Academy have honors and AP courses available to them, both to meet graduation requirements and to build a quality academic resume for college application. Students at other high schools that don't offer our honors or AP courses may enroll at Sterling part-time to take desired courses online. Because we are accredited, you can then transfer the credits back to your own school.
Applying to colleges is a competitive proposition. You want to do everything you can while still in high school to make yourself stand out to admissions officials as a capable, interesting addition to their campus environment. Taking honors and AP courses can challenge your mind and study skills, introduce you to new subjects, and boost the quality of your academic transcript.