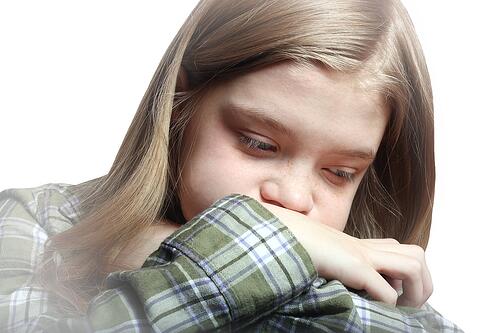 For a student experiencing school anxiety, the fear that he or she is alone is quite real. In today's world, depending on the school, your child's school anxiety may be just good common sense. Let's face it parents, school has changed a lot since most of us were there.
As the Enrollment Counselor for Sterling Academy, I talk to parents every day about why their children don't want to go to school. I'm also the mother of a 15-year-old daughter, so between the two I hope that I can provide a clearer look at why so many students are experiencing school anxiety today.
It seems difficult to find research or statistics that cover school anxiety, aside from situations such as a young child beginning school, or a student going to a new school. However, the number of times the phrase "school anxiety" is searched in Google indicates to me what I have already encountered through my convesations with parents, that school anxiety is not just random isolated incidents affecting a few students across the country.
Many parents tell me they feel like they are alone in their situation, but they are not. The National Institute of Mental Health reports that "a large national survey of mental health [found] that about 8 percent of teens ages 13-18 have an anxiety disorder, with symptoms commonly emerging around age 6." Psychology Today claims that "the average high school kid today has the same level of anxiety as the average psychiatric patient in the early 1950's." While these two articles do not specifically address teen mental health in connection with school, on the Stress in America survey from the American Psychological Association, covered in USA Today, it was discovered that 27% of teens report experiencing "extreme stress" during the schoolyear, compared to 13% reporting such stress during the summer. Although stress is not the same as anxiety, it is notable the difference between what is experienced during the schoolyear versus the summer, which suggests that anxiety would likewise increase during the schoolyear.
The numbers above confirm what I hear over and over from parents looking for help for their children. Many of our kids are simply afraid to go to school -- some with good reason -- and the problem of students experiencing school anxiety extends nationwide. Given the numbers above, you would think that more people would be talking about this, but what I've found is that most students do not talk to their parents about what is really going on at school until the situation starts to snowball into a truancy issue.
School is a scarier place these days than it used to be. If your child has not opened up about why he doesn't want to go to school anymore, you are not alone. Some of the top reasons students are enrolling in our accredited online private school include: bullying at school, peer pressure, depression, gangs, violence at school, the fear of violence at school, or a combination of any of the above. All students deserve to be able to get a quality education in a safe environment, and for more and more students these days that means attending school from home.
Some parents may see their own child and situation here; if so, I hope that I am able to help shed some light on a subject that many students are struggling with daily all across the country. To learn more about our alternative education options, you can call me at 866-502-1050 Ext 1, or email me at enrollment@sterling-academy.org. I'll be happy to answer any questions that you have, or help you enroll if you decide our school is a good fit for your child.
-- Carol Moser, Sterling Academy Enrollment Counselor
This is part 1 in a series on school anxiety.