One of the concerns often heard in regard to online high school programs is how students and teachers interact. Since students are not in a classroom every day, parents may worry that their children aren't getting the teacher interaction and help they need to learn. But in-classroom interaction isn't the only way that students can learn the material effectively; teachers can effectively help students in online settings.
There are different types of online schools. Some imitate in-classroom scenarios by having regular class meetings with the teacher by video, and requiring assignments to be due for everyone at the same time. Other schools, like Sterling Academy, provide more flexibility in scheduling, allowing the student to work at their own pace on their own schedule. (Yet other schools are somewhere in-between these two models.) With these more open schedules, teaching takes on a different format than in traditional schooling.
At Sterling Academy, which uses flexible scheduling, students log in and work at their own pace, and choose which subjects they want to work on at any particular time; some even choose to work on only one course until it's completed, then move on to the next one. However, all students must create a plan for the completion date of each of their courses, which is called their target date. Some parents may want their child to stay on the traditional school calendar; in this case, we set the target dates to coincide with their local public school's calendar. Once a target date is set for a course, the system creates an assignment calendar, which lists all the assignments the student needs to do on each day in order to finish the course by the target date. Students start each day by reviewing their assignment calendar to see what needs to be accomplished that day. However, this is flexible: If a student wishes to do more today and less tomorrow, or less today and more tomorrow, there are no penalties for such adjustments. The assignment calendar is a guide to keep the student on track for adequate progress, not a punitive due date system. And if needed, target dates can be changed.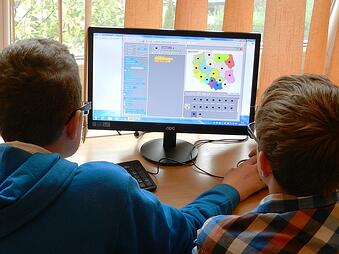 When students log in, they work through the online material at their own pace. They watch video lectures explaining the subject matter, read material about it, and complete assignments such as review exercises, quizzes, tests, lab reports, essays, and projects.
Now, back to the beginning topic: How does teacher interaction work in this setup? First of all, when teachers grade assignments, they often provide feedback, much as teachers in traditional high schools provide feedback. There is a great deal of student involvement in these assignments.
Where teacher interaction at Sterling Academy is distinctive compared to a classroom setting is that students get one-on-one help from their teachers, rather than having to ask questions in front of a whole class, or trying to catch a teacher in busy moments between classes.
Our teachers at Sterling Academy welcome interaction and student involvement, and any time a student is having trouble understanding course material, the teacher can be contacted. Simple questions are answered via messaging, and more complex problems can be discussed by setting an appointment at a specific time to meet with the teacher via phone, webcam, or chat. Sterling Academy also utilizes a whiteboard system so that the teacher can walk the student through the subject matter, which is very helpful for writing out and solving math equations, for example.
One of the benefits of attending online high school programs at Sterling Academy is that we require interaction between teachers and students, thus ensuring that there is student involvement. Our students are required to have contact with each of their teachers at least twice per month. This includes talking to the teacher over the phone or webcam. Students are not limited to teacher interaction only twice per month, of course. They can contact their teachers as often as they need help, although we encourage students who need substantial help, such as an hour or more every day in a course, to work with tutors.
Students actually can benefit from our one-on-one interaction with their teachers more than in a traditional classroom, as the teachers are not rushed to prepare for their next class or mitigating rowdy classmates. Our teachers are able to give their students undivided attention, which not only helps the student better understand the material, but also feel connected to the teacher and generally feel important, something that teens often struggle with as a whole.
Hopefully, this article has cleared up some questions you may have had about teacher interaction in our online setting. However, we are happy to answer additional questions you may have. You may call our Enrollment Counselor, Carol Moser, at 866-502-1050 Option 1, or email her at enrollment@sterling.academy to get answers to additional questions.