In October, 22-year-old Palmer Luckey received the Smithsonian Magazine 2014 American Ingenuity Award, in the youth category, for his virtual reality innovations including invention of the Oculus Rift. To what does he attribute his exceptional success at such an age? He told the Washington Post "I think it's pretty safe to say that the Rift never would've happened had I not been homeschooled."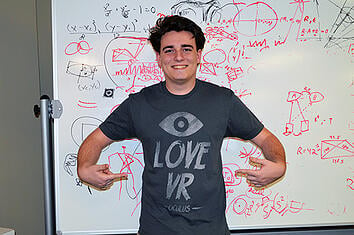 Palmer Luckey personifies one type of student for whom online homeschool is ideal. He describes himself as a self-motivated learner, focused on succeeding and attaining grades that could be easily transferred. "I was doing what I did to learn and also learning a lot of things on the side," he adds.
Luckey says homeschool "let me prioritize my schoolwork for certain days and my other stuff for other days." He started taking community college courses when just 14 years old. "That gave me a lot of freedom to choose the classes on the days I wanted." He also took sailing lessons.
Online classes augment homeschooling
Just as Luckey -- and other homeschooled students -- have augmented their homeschooling with college courses, homeschooled students can also expand and enhance their education by taking some of their high school courses online. Many homeschool parents look to top-quality online schools to provide foreign language, technology or other specialized learning opportunities for their high school age students, or even math, science and other core subjects.
But traditional homeschooling isn't an option for many parents whose schedules or inclinations don't support teaching their own children. For these families, online high school offers the exact environment Palmer Luckey describes – flexibility to learn when and where you want, to pursue personal interests and passions beyond minimum high school curriculum requirements. Online schooling opens more doors.
So what is the Oculus Rift?
From childhood, Palmer Luckey was fascinated with electronics, virtual reality in particular. He amassed a collection of more than 50 different head-mounted displays but felt none of them provided the view field or visual quality gamers needed. So he built his own prototype at age 18, then worked on perfecting it. He named the 6th generation model the "Rift."
His parents provided a highly supportive online homeschool environment for Palmer, but they did not pay for his technology investigations. To purchase supplies, Palmer repaired and resold damaged iPhones, taught sailing and repaired boats.
Hoping to produce and sell a few Rifts to fellow virtual reality buffs, he started a company called Oculus VR and turned to Kickstarter for crowd funding. He raised well over $2 million, a whopping 974% of his intended goal. Since then his company has raised more than $91 million from various venture capitalists. One of his investors was so excited, he quit his own company to head up Oculus VR.
Palmer Luckey was named by Forbes Magazine among their 2014 "30 under 30." And last March, he sold Oculus VR to Facebook for $2 billion, although he continues to work there. This is just one example of what ambitious students can do when they have the flexibility of doing their schooling from home.