One of the questions we are often asked by parents and prospective students about online school is what socialization opportunities exist. After all, teens are learning their way as individuals in addition to gaining an education. While social interactions can be very different for online students compared to their traditional school peers, that doesn't mean opportunities are lacking.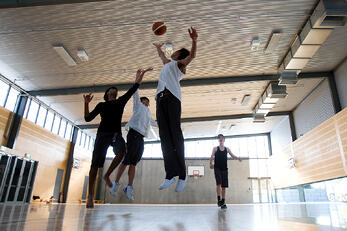 There are plenty of ways in which online students can interact with their own age group as well as others in their community to learn and hone social skills:
Sports programs – through a local church group, the parks and recreation department or athletic clubs

Local art and photography clubs

Music performing groups

Studio dance lessons

Theatre

Volunteer work

Junior Achievement -- a national organization with local chapters that gives students hands-on practice in entrepreneurship

Part-time jobs
It is easier for online students to make time for these activities because their study schedules are entirely flexible. This can open new doors for teens, not only for socialization but in the form of introduction to new interests or issues they might never experience if attending a traditional school.
Teens who are already immersed in amateur athletics, dance training, modeling, acting or other time-consuming endeavors love online school because they can keep up with their studies no matter how erratic their schedule. These students have myriad opportunities to socialize with others as they go about their daily business.
The social scene at traditional schools can be fearsome instead of fun.
All too often these days, the "social" atmosphere at traditional high schools is negative. Dealing with cliques can be an unpleasant distraction, bullying is a common problem and most schools deal on a regular basis with drugs and other issues that have students as worried as their parents. It's not always an atmosphere conducive to learning.
Online high school offers a positive option for students who have been victimized or are concerned about what could happen during the next school day. And there are other social considerations that make online study a better option.
Students facing significant health challenges have priorities other than typical teen socializing. The flexibility of online school enables them to concentrate on furthering their education, in a way that accommodates the things that are most important for them right now.
Besides, it's tough to be a teen. For students who haven't yet grown into their social "comfort zone," online school offers a haven where they can sidestep the sort of "in your face" social atmosphere of a brick-and-mortar campus. Online students can interact with others at a level that works for them. Those who want to be very social with friends and others with similar interests have all the opportunities already mentioned. Those who are more reticent can choose who they socialize with, outside the forced environment of a brick-and-mortar school.
Online students can interact more comfortably with teachers, as well. Instructors are readily available to help, so students can easily have as much (or much more) engagement with them than they would receive in a traditional setting. For students who would rather maintain some distance, using email or the phone can often feel less awkward.
Every student is different – and social skills and interests among teens vary widely. It is important to think about socialization when considering online high school, but it is a mistake to assume online students need to miss out on social opportunities.