Applying to college is not simply a matter of finding the right academic match. Admissions directors are looking for well-rounded students. They want to know if you have a range of interests and if you seem likely to be a good personal fit within their college's particular environment.
To do that, they look beyond your transcripts for evidence that you participate in extracurricular activities such as sports or band or the dance team. They want to know if you do volunteer work or otherwise involve yourself in your community. Admissions officers also look to see if you belong to any social organizations. Sometimes social organizations are specific to a particular brick-and-mortar high school, but there are numerous opportunities open to online students as well.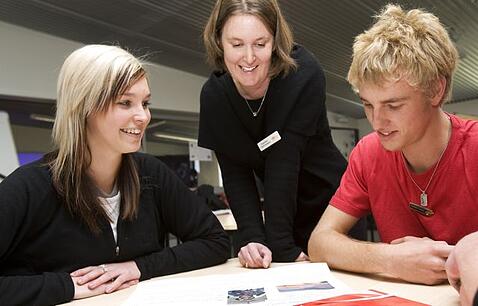 Clubs and organizations offer multiple benefits.
Besides being fun and rewarding, participating in social organizations prepares you to thrive in college. You're bringing out your "inner explorer," proving you can be comfortable inserting yourself into new situations. College itself will certainly be a new situation.
You're also taking responsibility for getting things done within the group. Along the way, you may connect with advisors who can write letters of recommendation, and – a valuable bonus -- many of these organizations also offer scholarships for student members.
So don't think of social organizations as merely a checklist to improve your chances of college admission, think of them as opportunities to learn new things and meet new people. There are organizations that revolve around academic areas of interest, the world of business, hobbies and making a difference in your community. Here are just a few suggestions:
Future Business Leaders of America. Self-described as the largest and oldest business student organization in the world, FBLA connects high school and college students with faculty and business professionals to learn more about careers in business.

DECA. Formerly called Delta Epsilon Chi and Distributive Education Clubs of America, this international organization is the place to learn about becoming an entrepreneur in business management, marketing, finance and hospitality.

Technology Student Association. TSA focuses on Science, Technology, Engineering and Mathematics (STEM) subjects, helping members apply and integrate their knowledge through activities and competitions among other programs.

Leadership groups such as Key Club, which is associated with Kiwanis International.

4-H. Love animals? This organization helps you learn to use your head, your heart, your hands and your health to improve your community, country and the world.

Future Farmers of America. Without agriculture, we'd have nothing to eat. FFA will help you develop your "potential for premier leadership, personal growth and career success through agricultural education."

Language clubs show you're committed to really learning the language as well as exploring the culture and travel opportunities in countries that speak the language.

UNICEF Club enables students to support this international organization in advocating and fundraising on behalf of children around the world. You can start your own high school chapter by gathering three other students and asking one of your online teachers or an administrator to be your advisor.
The interactions you have with your high school peers and others within social organizations like these form just one element of your college application, but they definitely help admissions officers form a more complete picture of you as a prospective student at their college. That helps them evaluate how you'll fit in and how well you'll be able to reach your potential.