In 7th grade through 11th grade in my growing up years, due to school crowding, we had split sessions and my class went to school from 12:30 to 5:30. Once the new high school was completed, they put us on a "normal" school schedule: we started school at 7:35 AM and finished at 2:45 PM.
I was amazed by the change in the student body. In our old school, everyone was lively and class participation was active. Once we had to start going to school at 7:35, everyone was a zombie. Class participation became minimal. Many people, including me, struggled with dozing off in class. That last year of school was like a dark blur to me.
A few years ago, I saw a TV program on the Discovery Channel about circadian rhythms in teens. They noted that in teens, melatonin -- the brain hormone that makes you sleepy -- doesn't become active until about 11:00 PM, and stays active until 8:00 AM. Teens need about 9 hours of sleep, but they cannot easily go to sleep until about 11:00. If they have to be at school by 7:00 AM, they have to get up too soon for their body's circadian rhythm.
The program continued with examples of schools that decided to start the school day later; those schools found that academic performance increased, and misbehavior, such as fighting, decreased.
Recently I have run across additional articles documenting this important phenomenon. One is Later Start Times For High School Students from the College Of Education + Human Development at the University of Minnesota. It reports on a large study done in the Minnaepolis area; when they started high school at a later time, there was "a significant reduction in school dropout rates, less depression, and students reported earning higher grades."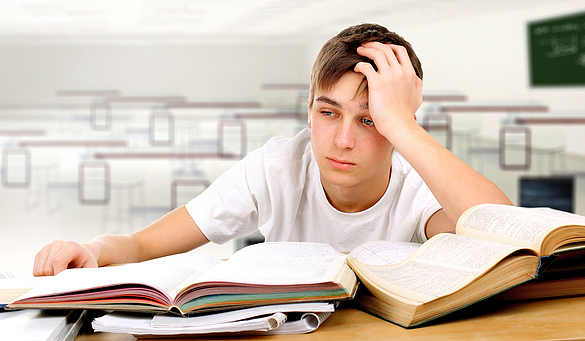 When high schools start their day too early, they affect students' academic performance
as well as prompt sleep-deprivation health issues.

Dr. David White, MD, reports in Back To School: Your First Assignment Is Getting More Sleep, that "the preponderance of [research] data suggests that reduced total sleep time, erratic sleep schedules, poor sleep quality (difficulty falling asleep or waking up at night), and sleepiness during the day are all associated with poorer academic performance." High schools that start too early necessarily cause reduced sleep time for their students, and by extension, make it more difficult to achieve.
Chronobiologist Bora Zivkovic reports at length on this topic in When Should Schools Start In The Morning? at the Scientific American, noting that lack of sleep causes obesity, diabetes, discourages exercise, and affects mood. Furthermore, being that a teen's body cannot be in an awake state at 7:00 AM, driving to school that early in the morning is akin to driving drunk.
Some people are naturally early birds, while others are night owls. Zivkovic calls these "chronotypes"; each person's genes affect their natural circadian rhythms that make them early, median or late chronotypes. He clearly acknowledges that not every teen is equally affected by early start times; however, for all chronotypes, even early bird chronotypes, during their teen years, lasting into their 20s, their circadian rhythm shifts later.
Zivkovic's article is loaded with interesting information on this topic; I encourage you to read it. There is plenty of scientific evidence showing the importance of providing a schedule for teens that permits them to go to sleep at 11:00 PM and get their full 9 hours of sleep that is needed. Amazingly, despite the science, schools all over the country still insist on having students show up at school at 7:00 or 7:30 AM.
If you as a student are finding that you're always sleepy and thus unable to perform as well as you would like, or you are the parent of a teen who is not doing well academically, behavorially, or is depressed, you may want to look into sleep issues. There may be specific sleep issues, such as some noted in the article Sleep Problems In Teens, but it may be something as simple as the fact that the student cannot get enough sleep due to the school's schedule that does not fit teen circadian rhythms.
A possible solution is for the student to study at an online high school like ours. I know for me, as the principal, I find the online situation very suitable. As a night owl chronotype, being able to work hours that are more fitting to my chronotype enables me to work during the time of day when I perform best. Since our school is asynchronous, allowing students to study on their own schedule, students and teachers can also work at the times when they perform best.
However you choose to solve the issue of lack of sleep for the teen in your family, please be aware of the consequences of prolonged lack of sleep. Actually, those consequences affect adults too; it's just that the circadian rhythm of most adults more closely aligns to the typical career workday than the typical teen's school schedule aligns with their sleep patterns.
J Lee Harshbarger
Principal, Sterling Academy
If you would like to learn about studying online at our school, please call 866-502-1050, option 1, or email enrollment@sterling.academy